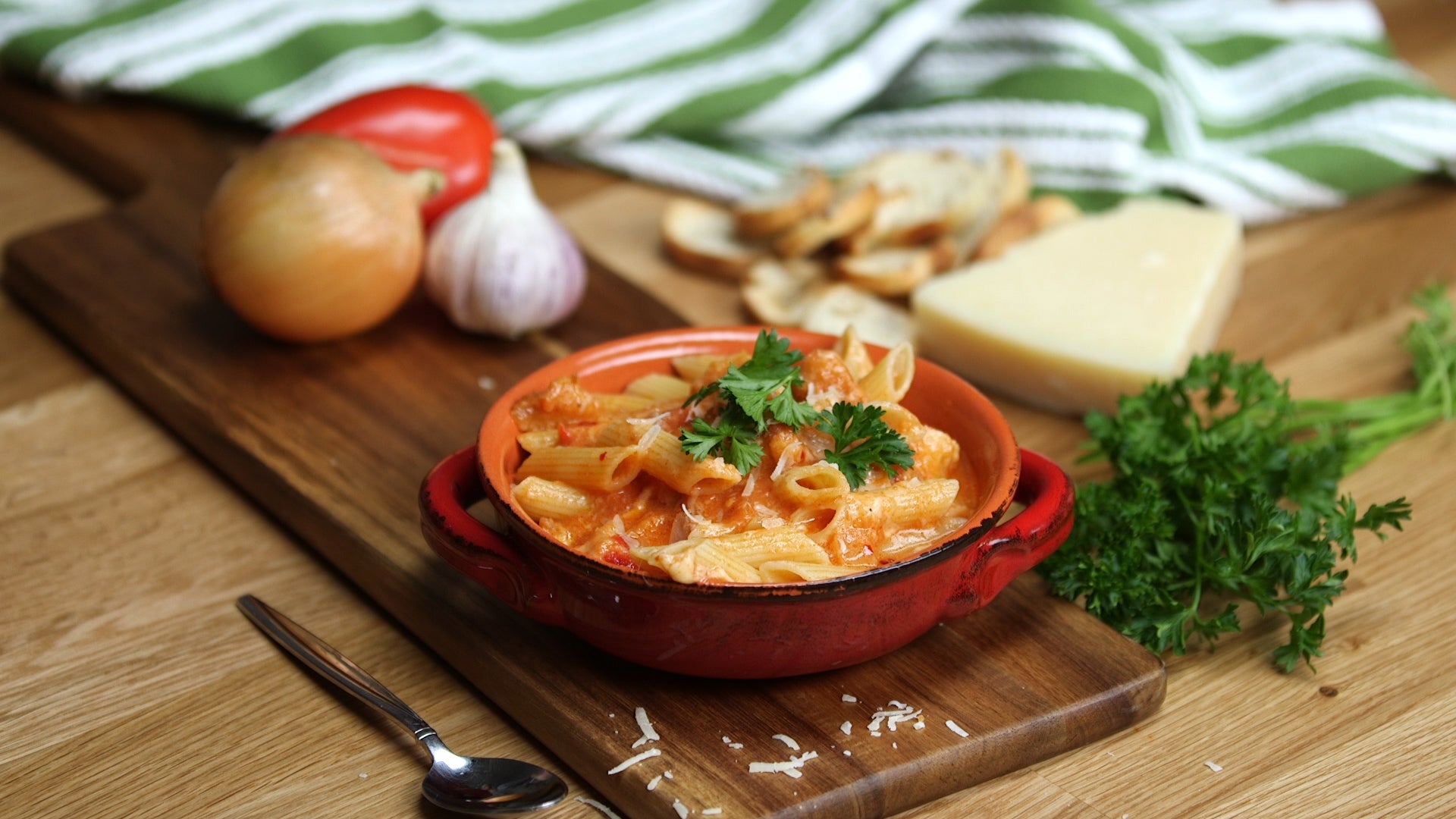 Pastificio Mandala Creamy Vodka Sauce 19.8 oz
The 1980s in Italy, a time when models danced the night away in discotheques while snacking in between on tiny bowls of pasta! It's there that this intoxicated marriage of ripe tomatoes, dry vodka and luscious cream was born. No Italian sauce is more decadently controversial. Northerners love dairy, southerners love tomatoes and never the two shall meet until you add a shot of vodka!
Product Details
ORIGIN: Italy
DIMENSION: (H x W x L) 5.67 x 3.25 x 3.25 inches
ITEM WEIGHT: 1.9 lbs
UPC: 851304008397
Ingredients & Storage Tips
Ingredients: Tomato paste, water, crushed tomato, cream, vodka, minced garlic, sugar, ricotta cheese (milk, sheep milk, whey, salt) olive oil, salt, cheese (milk, rennet, salt) minced oregano, black pepper, red pepper, citric acid (preservative).
Storage Tips: Keep in a cool, dry place and away from direct sunlight and refrigerate after opening.
Flavors & Uses
Try this sauce with a delicious tortiglioni, linguine or bucatini bronze-extruded Italian pasta!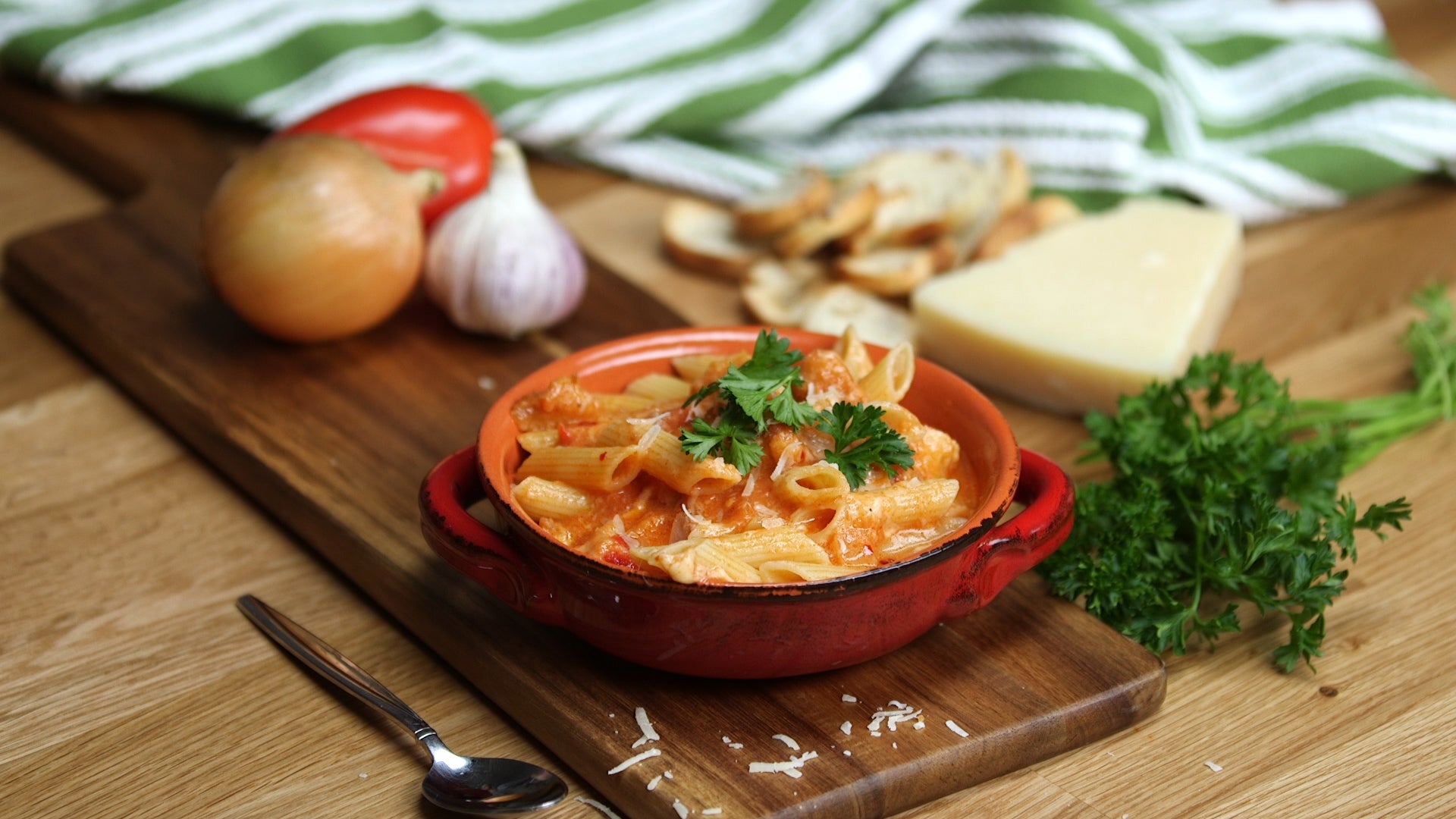 The Taste of Sicily
Each chef-created recipe is made with only 100% Italian vine-ripened tomatoes, local herbs, spices, and Sicilian extra virgin olive oil.

INGREDIENTS YOU CAN TRUST
Made with real ingredients you can pronounce with little or no sugar

PRODUCED IN ITALY
Made on the island of Sicily with only Italian tomatoes!
LESS WATER, MORE FLAVOR
Tomatoes are the first ingredient for a thick, flavorful sauce
Us Versus Them
| | Our Brand | Other Brands |
| --- | --- | --- |
| Chef Curated | Yes | No |
| Made in Italy | Yes | No |
| Unique Flavors | No | No |
Game changer!
Received the sauce the very next day. WOOW! Fastest way from frozen pasta to a delicious authentic Italian meal!
Quick / easy
Being a mom with two little ones, cooking's often a rush. This creamy vodka sauce tasted homemade minus all the cooking. Rich taste, kinda fancy, but even my fussy eaters chow down. Saved my weeknight dinners big time, total win!
Ok, this was actually good
There is only 1 vodka sauce at my Whole Foods (Primal) which I didn't like. I saw this brand on FB and gave it a shot. It's really good on big cuts of pasta and also works well in lasagna.
Like It Was Made From Scratch in the Trattoria
Vodka sauces are a dime a dozen. Half of them taste like marinara with a little cream thrown in. This one tastes like an Italian chef made it to order in an authentic trattoria. Really tasty, great consistency--clings beautifully to pasta. I usually by Rao's if I'm lucky enough to get at the same price as this one is regularly. The Pastificio sauce is way better and a greater value for dollar--will be purchasing again.
Better than Carbone
Was on sale at our local grocery store, much better then the vodka sauce I normally buy from Carbone.
---
---
---