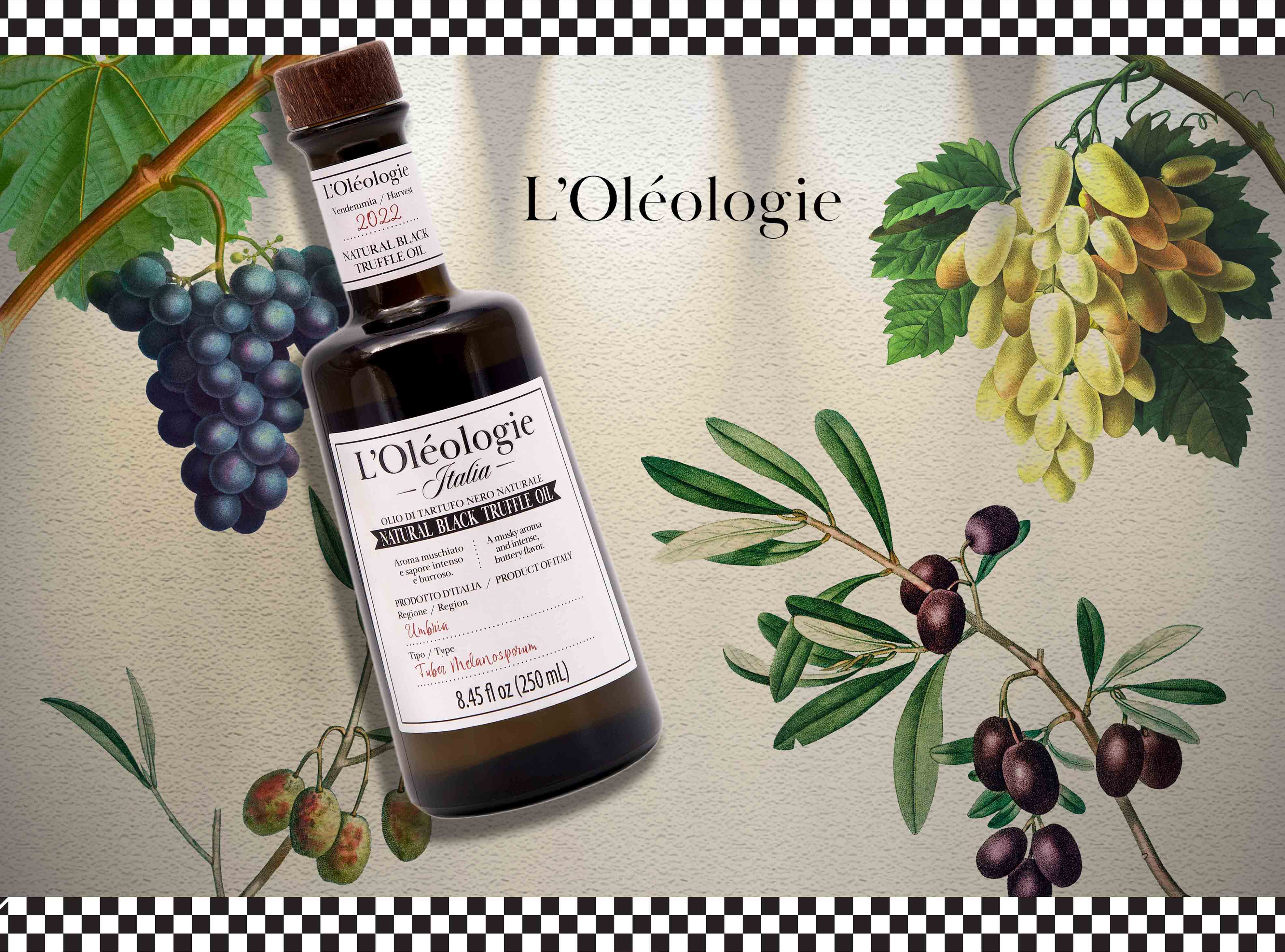 L'Olèologie - Italian Black Truffle Olive Oil 250 ml
L'Olèologie's Black Truffle Oil boasts a stunningly sophisticated flavor and aroma that set it apart from the crowd. Unlike many truffle oils on the market, our formula is enriched with real black truffles, ensuring a truly unique and authentic taste experience. Embrace the essence of luxury in every drop.
Product Details
ORIGIN: Italy
DIMENSIONS: (H x W x L) 7.25 x 2.25 x 2.25 inches
ITEM WEIGHT: 1.9 lbs
UPC: 850037750030
Ingredients & Storage Tips
Ingredients: Extra virgin olive oil, natural black truffle (tuber aestivum), aroma
Storage Tips: Keep this tasty oil in a cool, dry place and away from direct sunlight until opened then refrigerate.
Flavors & Uses
Mix into a ramekin of butter, perfect as a finishing sauce.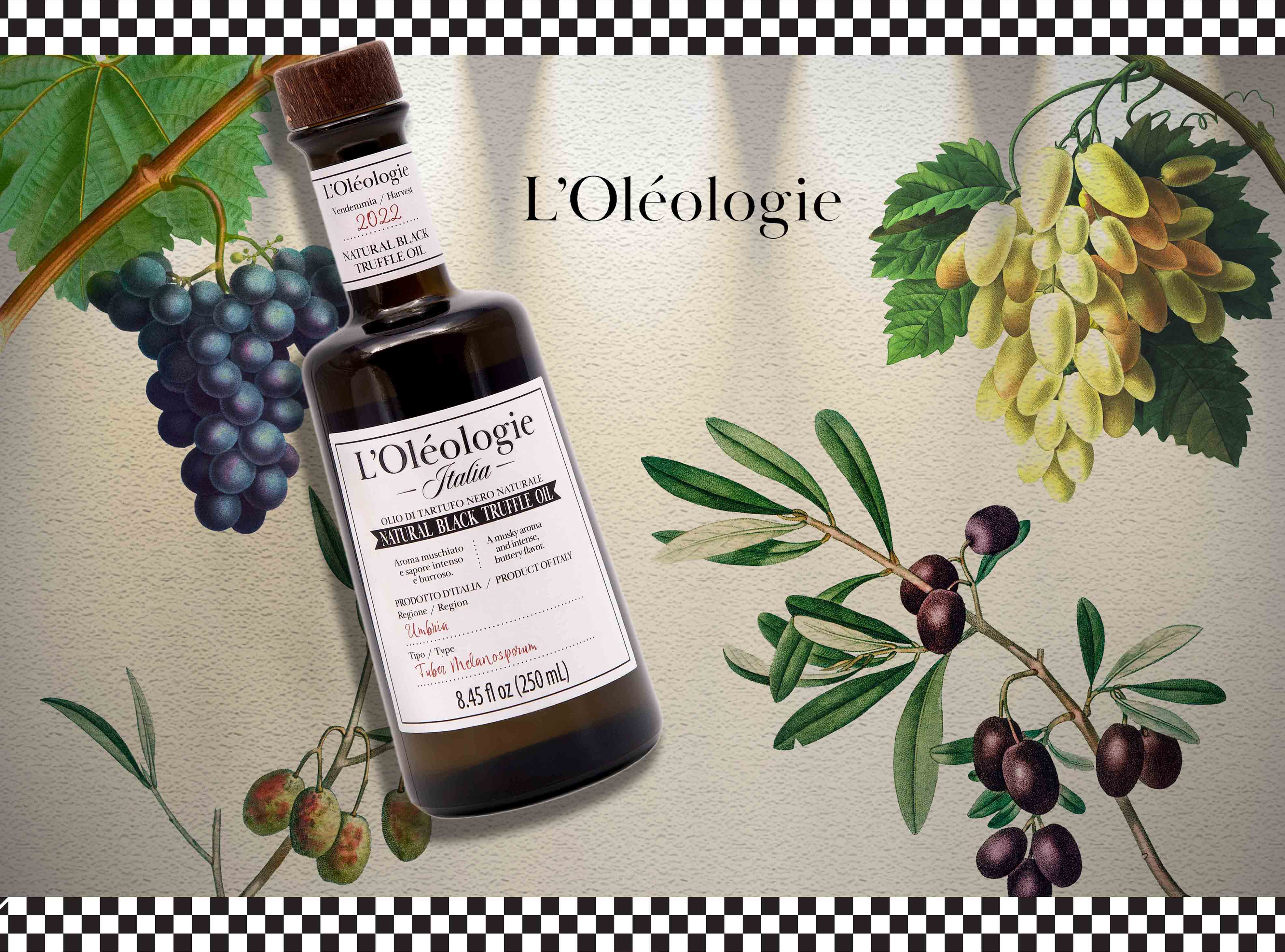 Why L ' Oléologie?
Our name is inspired by Oleologists, the title given to olive oil experts. And like oleologists who value craftsmanship, our exclusive oils are sourced from small producers known for their high quality. Due to the variability of crop sizes, these oils are available only in limited quantities.

All natural truffle oil
We use only all natural ingredients and actual black truffle

Produced in Italy
Harvested from a small farm in Italy
Release your inner gourmet
Each batch is infused with a delicious and earthy black truffle flavor!
Us Versus Them
| | L'Olèologie | Other Brands |
| --- | --- | --- |
| Artisanal | Yes | No |
| Cold Pressed | Yes | No |
| Hand Picked | Yes | No |
Tastes amazing and works on so many different dishes
I recently had the pleasure of trying Oleologie's Black Truffle Italian Olive Oil, and I must say, it truly is an amazing product. Not only is it all natural, but I was impressed at how versatile it was as an ingredient. I found myself using it in a wide range of dishes, from simple salads to gourmet pasta dishes and even drizzling it over grilled vegetables. The truffle aroma and flavor add a sophisticated touch to any recipe, instantly transforming it into something I'd have at a fancy restaurant.
When using this black truffle oil be carefule, a little goes a long way. Just a few drops or a light drizzle can completely change a dish's flavor, creating a depth of taste that is both captivating and memorable. The oil has a smooth, velvety texture, coating each ingredient with its delightful truffle essence.
A Great Flavour Booster
I use it in the frying pan instead of regular olive oil when making omelettes and quick frying vegetables. The truffle oil really gives a flavour boost to simple dishes.
---
---
---